BABY-G's "Tough and Cool" outlook with appeal for women who lead active lives.
CULTURE
BABY-G x Artist Collaboration Vol.1
Illustrator from Taiwan
Fashionable BABY-G coordination tips by Taiwan illustrator Hannah Tsou!
Fashions from four genres that go well with the BABY-G. Find the fashion that suits you best!
01. ITEM FOR COOL GIRLS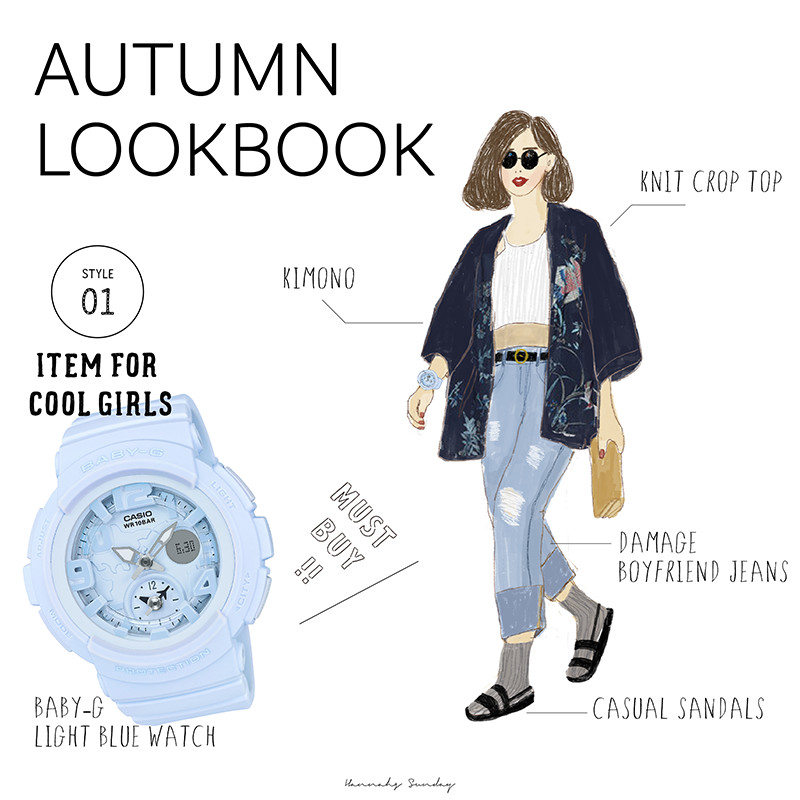 A great choice for fans of the Japanese kimono patterned tops that are popular in Europe and the U.S. this year. A casual look created by combining cropped tops with damage-look boyfriend denim jeans and sandals.
Perfect for a monotone colored watch with a large face.
02. ITEM FOR SWEET GIRLS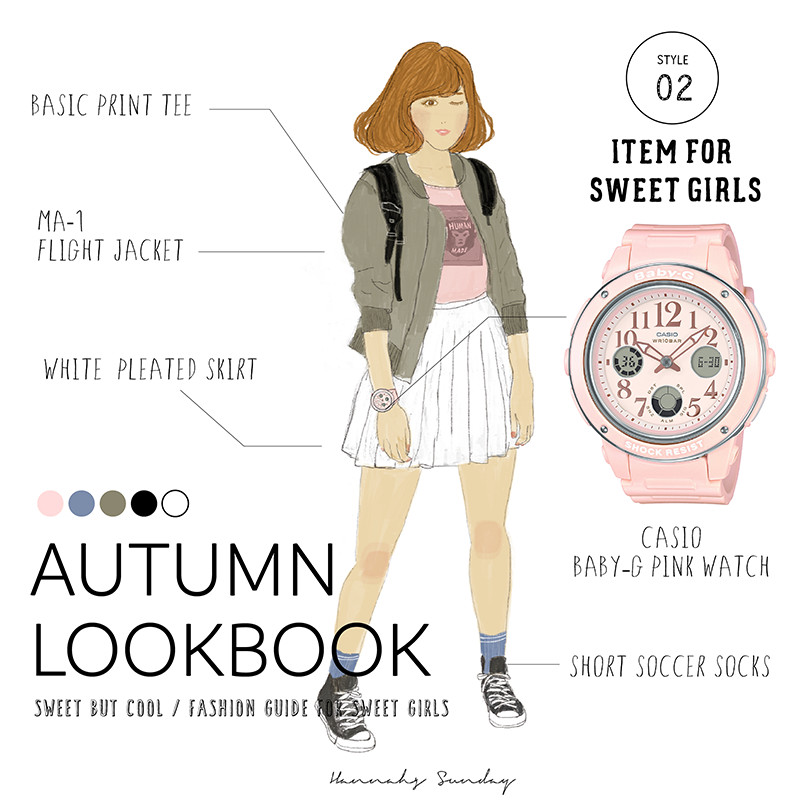 This item combines a pink BABY-G with a pink T-shirt and white pleated skirt. A great cute touch when combined with a mannish MA-1 flight jacket. Recommended for sweet-but-cool fashions.
03. ITEM FOR HIPSTER GIRLS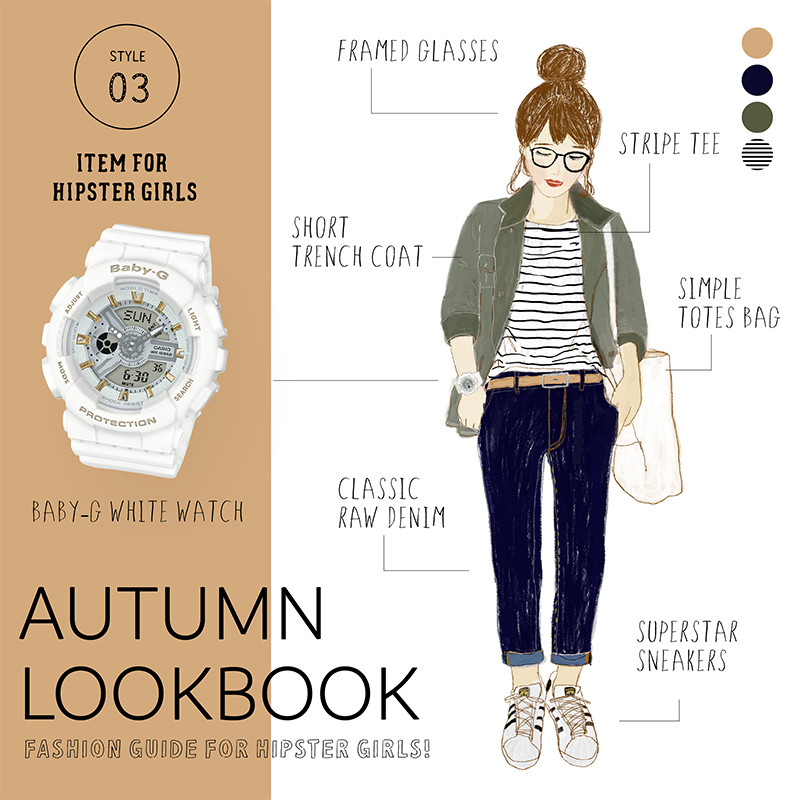 Bun hairstyles and black-rimmed glasses are the current fashion.
Dark-color straight denim jeans with the legs rolled up a bit to show the ankles. The white and gold of the BABY-G makes it a great accent that brings the whole thing together!
04. ITEM FOR FASHION GIRLS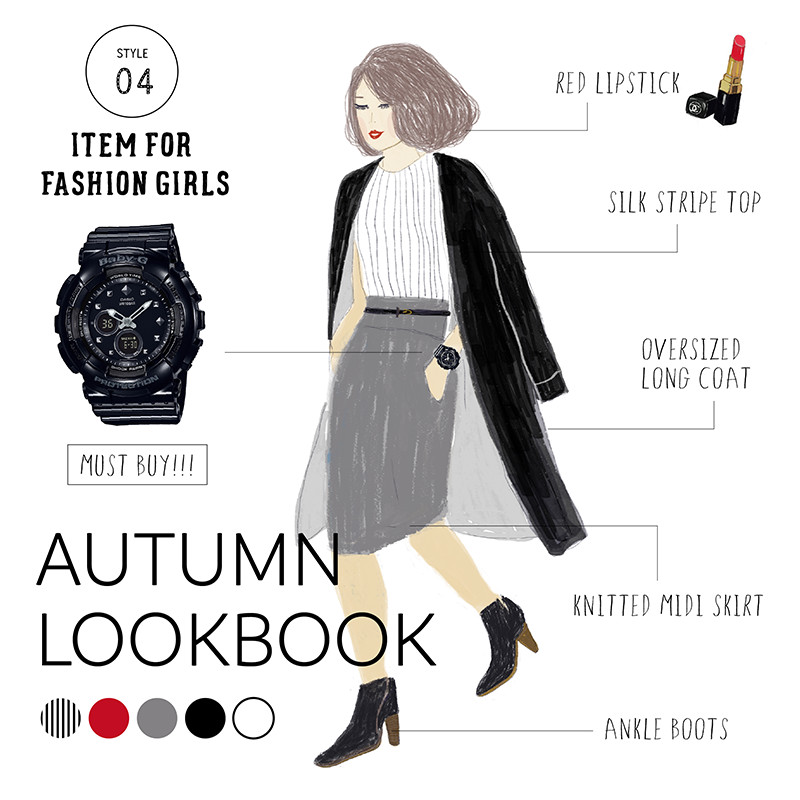 Black, white, and gray clothing along with striking red lipstick that strongly expresses your femininity.
This is further enhanced by a feminine leather belt.
The dial of the BABY-G is decorated with glittering stars to help make this look all your own.
INTERVIEW
Q1: Your BABY-G experience
A1:My very first watch was a BABY-G. I got it from my family as a birthday present! It is so durable and its design goes great with everything from formal wear to sportswear. I have been wearing a BABY-G constantly ever since I was a student.
Q2: This round of collaboration models
A2:I have seen people making BABY-G watches part of their fashions all over town. It is something that inspires all kinds of design ideas.
Q3: Thoughts on BABY-G
A3:I like the monotone coloring and simple design of the BGA-190BC. The airplane figure on the second hand of the World Time dial is so cute! It makes me want to go on a trip somewhere.
Q4: BABY-G X FASHION coordination
A4:BABY-G even goes great with simple fashions like a plain T-shirt and jeans. Wearing a pink colored watch enhances my femininity.
Q5: Concept behind the illustrations
A5:I wanted to show that the BABY-G is a watch that goes well with just about any type of fashion.
About Hannah Tsou