BABY-G's "Tough and Cool" outlook with appeal for women who lead active lives.
SPORTS
town & country
two stories
story:
beach town
The city beach town looks good against the big blue sky.
Modern designs and colors are perfect for those who like to accessorize.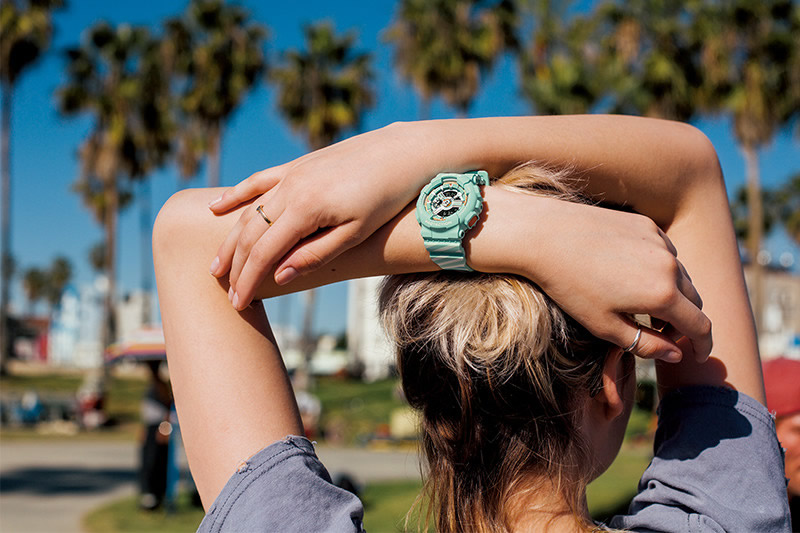 profile03

olesya
malykina

In L.A., the biggest beach town on America's west coast, our fashion-forward model Olesya heads out to the waves in a t-shirt and denim shorts. Her BABY-G perfectly matches this simple summer look.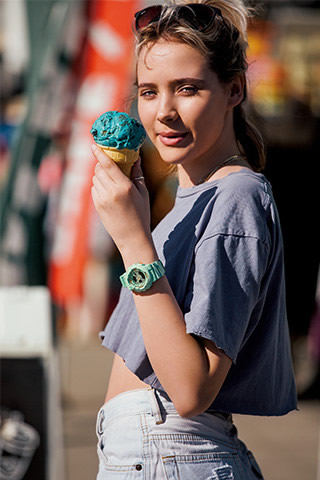 Born in Uzbekistan and raised in L.A., we are to meet Olesya at Venice Beach. Venice Beach is a famous beachfront in L.A. among the likes of Santa Monica, and is home to the legendary skateboarding team Dogtown. Young skaters focused on their technique occupy the large skate ramp provided on the beach. Olesya has bumped into one of her skater friends and is relaxing as if this were a small, local beach. "I come to Venice a lot with my friends in summer. I also come here when I want to swim. "Brought to life by a myriad of souvenir shops and food stalls, the Venice boardwalk has a certain charm that makes people keep coming back. Oleysa, who likes dancing, enjoys seeing the high-quality street performances there. After a long day of walking, she replenishes her energy with some ice cream, her colorful BABY-G catching the sunlight. The colors of her watch seem to suit the bright, blue sky and palm trees that surround her. Oleysa likes to stand out from the crowd, and this stripy piece allows her to do just that. The BA-110CH's sporty but simple design makes it the perfect companion for a day at the beach.