BABY-G's "Tough and Cool" outlook with appeal for women who lead active lives.
SPORTS
town & country
two stories
story:
country island
Bathing in the summer sun and enjoying an active lifestyle.
The contrast of a surfboard against the ocean makes us excited for the arrival of summer.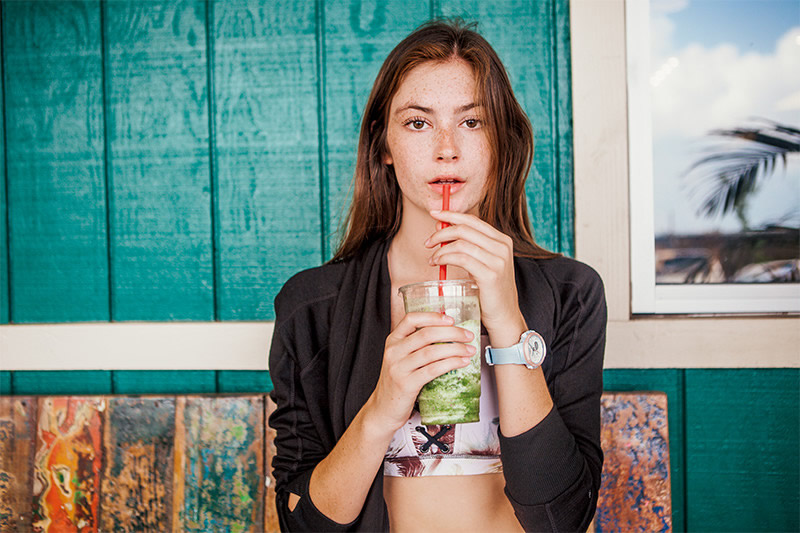 profile02

trinity
trice

Trinity is a girl who loves outdoor activities – paddle surfing, snorkeling,and hiking, to name a few and moved to Hawaii a year ago. Her simple watch fits her simple lifestyle on the coast.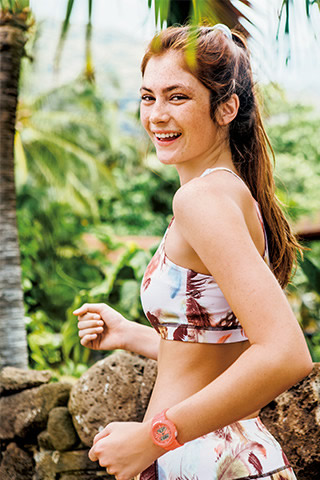 A California native, Trinity has an eye for vintage fashion. She leads a healthy lifestyle, and is good at managing her time between work and leisure activities, such as looking through thrift stores. She readily changes her schedule based on Hawaii's fickle weather, reading a book when it rains, and going out for a run when the sun shines. Today, she wears a BGA-240 to match her coordinated active wear. The BGA-240 comes in a variety of colors perfect for both everyday use and slightly special occasions. A rainbow has appeared in the sky after the rain today, and the bougainvilleas are still in full bloom. The only way to replenish energy after a big run on a day like this is with a green smoothie. Lately, Trinity adds vitamin E-rich almond butter to her smoothies. Another famous spot nearby is Mermaid Cove, a beach famous for its mysterious cove. This beach is perfect for a relaxing day out as there are relatively few tourists around. On days off, Trinity and her boyfriend like to drive to the beautiful Waimea Bay, wearing their matching G-SHOCK watches. Trinity loves her versatile BABY-G, and it accompanies her wherever she goes.