BABY-G's "Tough and Cool" outlook with appeal for women who lead active lives.
ART
BABY-G x Artist Collaboration Vol.8
Illustrator from France
Loïc Locatelli Kournwsky
An up-and-coming illustrator, Loïc Locatelli Kournwsky drew illustrations of BABY-G's with free inspiration.
INTERVIEW
Q1: What are illustrations for you?
A1:A way to express all the things that could not be explain with words.
Q2: What kind of time do you like to spend?
A2:Binge-watch 90's movies, TV shows, anime. Reading while listening old Japanese idol songs.
Q3: Can you tell me the concept of your illustrations in this collaboration with BABY-G?
A3:I aimed these illustrations for Japanese teens/pre-adults women, and make them understand that BABY-G could be the perfect trendy accessory to match their new fashion and be the ideal companion for the new year to come. Spring is coming, be on time for the next chapter of your life !
Q4: What kind of inspirations and ideas did you get from BABY-G?
A4:BABY-G's colors are the ideal balance between pop colors and the classy-classic G-SHOCK. I based the colors of my drawings to match the product range.
About Illustration
Q: How did you come up with the 3 different concepts for your illustrations?
A:I wanted to draw 18-25 yrs old active women looking at their bright future /next move in life : traveling, moving to a new place, entering University and so on...
Loïc Locatelli Kournwsky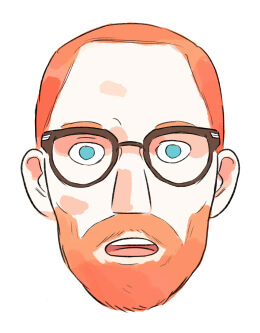 I worked 10 Years as a comic book artist in France, and moved to Japan to draw props & background for Anime.
Instagram