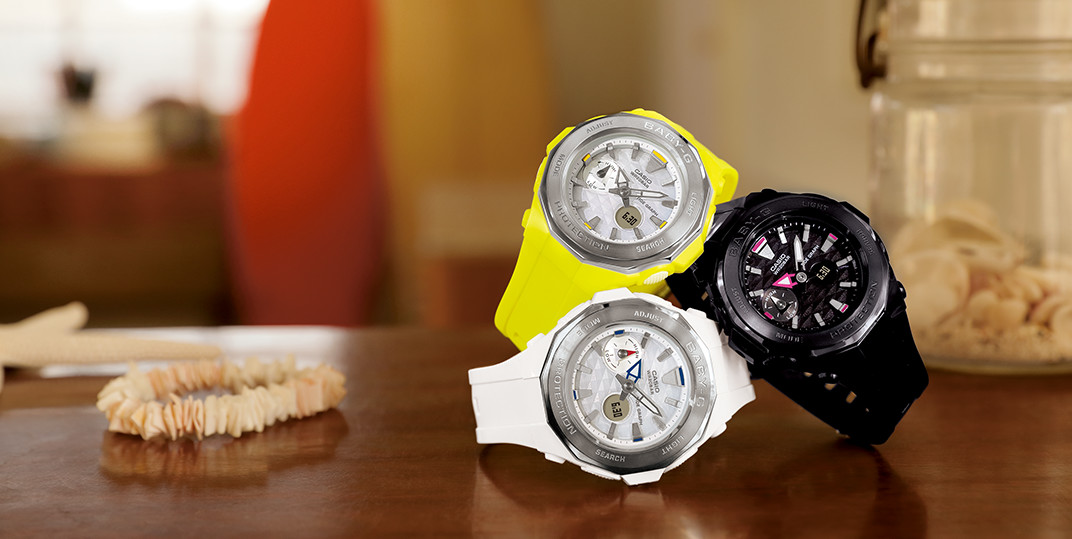 BEACH GLAMPING SERIES
SPORTY STYLE AND GLAMOROUS DESIGN
FEATURES(BGA-220)

Forged Stainless-steel
Polygon Bezel

The bezel is contructed stainless steel forge-cast in a complex form combining circular and polygonal shapes. The separation of the hairline-finished upper surface from the mirror-finished side surface, combined with pink gold ion plating(BGA-220G-7A), creates a gorgeous high-quality design.

Metal-tone 3D Index

Large time indications are laid out on a dial that communicates a sense of depth. The gleam of the metal coating applied to these 3D parts is matched to the ample bezel, producing a look quality on the wrist.

Flowing Curved 3D Index

The streamlined 3D form recalls a wave sparking in the sun as it approaches beach. A feminine softness is added to the clean-edged face design.
Tide Indicator

When the watch is in the Timekeeping mode, a small hand at 6 o-clock indicates the tides. Pressing the direct key at 4 o'clock causes the hand to point to the current tidal conditions once an hour thereafter.

Moon Date

In the Tide mode, the moon age is displayed on the LCD.

Thermometer

A built-in temperature sensor measures temperatures across the range from -10°〜60℃.